The Community Choir
Music to feed the soul!
Founded in 1949 by the late Dr. Robert E. Wooten, Sr., the "Ensemble" remains the oldest community choir in the country.  Not only a pioneer in the arena of "Gospel Music", the "Ensemble" has counted as part of its mission the preservation of Spirituals, Anthems and the Hymns of the church.  The choir, over the years, has traveled extensively throughout the United States and has ministered in hospitals, penal institutions, nursing homes and concert halls bringing the "Good News" to any that would hear.  The choir has been featured on radio, television and theatrical stage including a recent appearance in the Chicago premier of Three Mo' Tenors.  The choir has also presented a dramatic production of its own "Wouldn't Take Nothin' For My Journey" which recreates the evolution of Black Music from slavery to today and from Gospel to Jazz.  The "Ensemble" now under the directorship of Robert E. Wooten, Jr. boast members currently from three generations of families!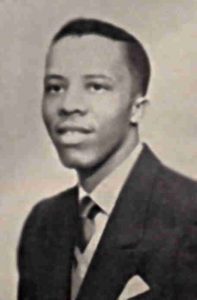 What WE Do
Our Activities
Membership in WCE requires commitment, dedication and service!
What We Sing – The Ensemble sings all genres of music! Hymns, Spirituals, Anthems, Traditional & Contemporary Gospel, Show-tunes Popular-tunes and Jazz!
Where We Sing – The Ensemble has performed extensively over the course of 67+ years. Coast to coast, churches, auditoriums, concert halls and arenas!
How We Serve – Ensemble members sing and worship together each 1st and 3rd Sunday at Beth Eden Baptist Church. The choir accepts singing engagements in various venues as scheduled. The members are also actively engaged in our mentoring program E1T1, a program that engages at risk youth from the community in an effort to show positive influences and assist in educational endeavors!
Booster Support
How you can help us!
WCE Boosters can actively support the choir!
At Concerts – Our boosters not only support us with their presence but assist in many ways in support of the director and members.
On Tours – Our boosters assist us by taking responsibility for directing our patrons to the persons they need to see, keeping our belongings safe and assisting with articles that members cannot take into the choir stand!
E1T1 – Our boosters can play a role in mentoring at risk youth in the community by volunteering to assist in the activities as sponsored by the choir!